Wakefield 2001: ExpLAN to unveil solar powered RISC OS machine

By Chris Williams. Published: 11th Apr 19:14:08 | Permalink | Printable

If you were to take a computer with you to a remote location, what characteristics would that computer need? It would need to be rugged and durable as well as light and easy to transport. Electricity would be scarce so it would need its own power supply. It should also require minimal power to work. Forget a chunky laptop battery as once used up there would be no way to recharge it. What you need is a solar panel, a totally portable and 'green' source of electricity. But how can you run a computer off a solar panel when the average Windows PC demands more than 200 Watts, plus more for the screen - perhaps another 200W for a decent 17-inch CRT monitor? Here's ExpLAN to tell us how with their Solo computer.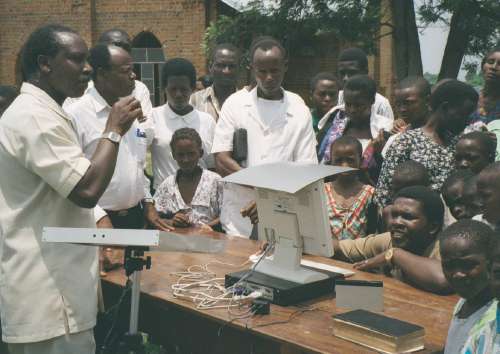 Solo workimg prototype



ExpLAN computers have been looking into the technolgy deficit of the Third World and according to ExpLAN, "..the lack of sufficient power to run thirsty IT equipment is a serious brake on technological development in developing countries." While leading nations address this issue, ExpLAN have decided to develop their own computer system that can be manufactured in developing countries. The Solo machine is such a RISC OS computer system and whether you are an aid worker on Africa or a researcher in the plains of Australia, the Solo computer will provide you computing power without any hassle or fuss or worry that it might fail at a crucial stage. The whole design is geared towards low power, low maintance and high durability.

"The Solo is intended to be used primarily by personnel working for organisations in remote regions, possibly village schools, missionary stations and clinics" explain ExpLAN. "It will also be of value to agriculturalists, health workers and NGO's who must remain away from their base for indefinable periods. Documents may be written using the inbuilt word-processor, which will be Microsoft Word compatible. Emails can be constructed and stored in a queue.

As required, the Solo can be taken into a town with telephone access, where it can transfer emails across the Internet, and be connected to a desktop computer for the transfer of files and sharing access to a printer using an inbuilt utility."

According to the data passed to drobe.co.uk, the Solo computer, which will be unveiled at this May's Wakefield 2001 show, requires a mere 8.5 Watts to power a fully functional RISC OS motherboard, a 13.3" TFT LCD screen (1024 x 768 pixel resolution), a touch-pad mouse, keyboard and a disc drive. Apart from the disc drive, everything is solid state ie: no moving parts for dust and dirt to ruin. RISC OS 4 is in ROM as per usual and any software is loaded onto the built-in FlashRAM.

A Solo computer can therefore be run off a single 10 Watt solar panel, with some current to spare. This spare current can go into charging a battery in case you need to use the computer in the dark or a curious person decides to wave their hand over the solar panel. If a solar panel is inappropiate you can use a car battery or a car cigar-lighter. You can expect to see a competed Solo towards the end of 2001.

Solo specifications:

Search the archives
Today's featured article
South East 2007 show report
News, views, gossip and photos

35 comments, latest by Pete on 06/10/08 10:51AM. Published: 20 Oct 2007


Random article
PCI TV card progress
Where the heck is it?

19 comments, latest by quatermass on 24/2/04 3:28PM. Published: 20 Feb 2004



Useful links

News and media:
Iconbar • MyRISCOS • ArcSite • RISCOScode • ANS • C.S.A.Announce • Archive • Qercus • RiscWorld • Drag'n'Drop • GAG-News

Top developers:
RISCOS Ltd • RISC OS Open • MW Software • R-Comp • Advantage Six • VirtualAcorn

Dealers:
CJE Micros • APDL • Castle • a4 • X-Ample • Liquid Silicon • Webmonster

Usergroups:
WROCC • RONE • NKACC • IRUG • SASAUG • ROUGOL • RONWUG • MUG • WAUG • GAG • RISCOS.be

Useful:
RISCOS.org.uk • RISCOS.org • RISCOS.info • Filebase • Chris Why's Acorn/RISC OS collection • NetSurf

Non-RISC OS:
The Register • The Inquirer • Apple Insider • BBC News • Sky News • Google News • xkcd • diodesign